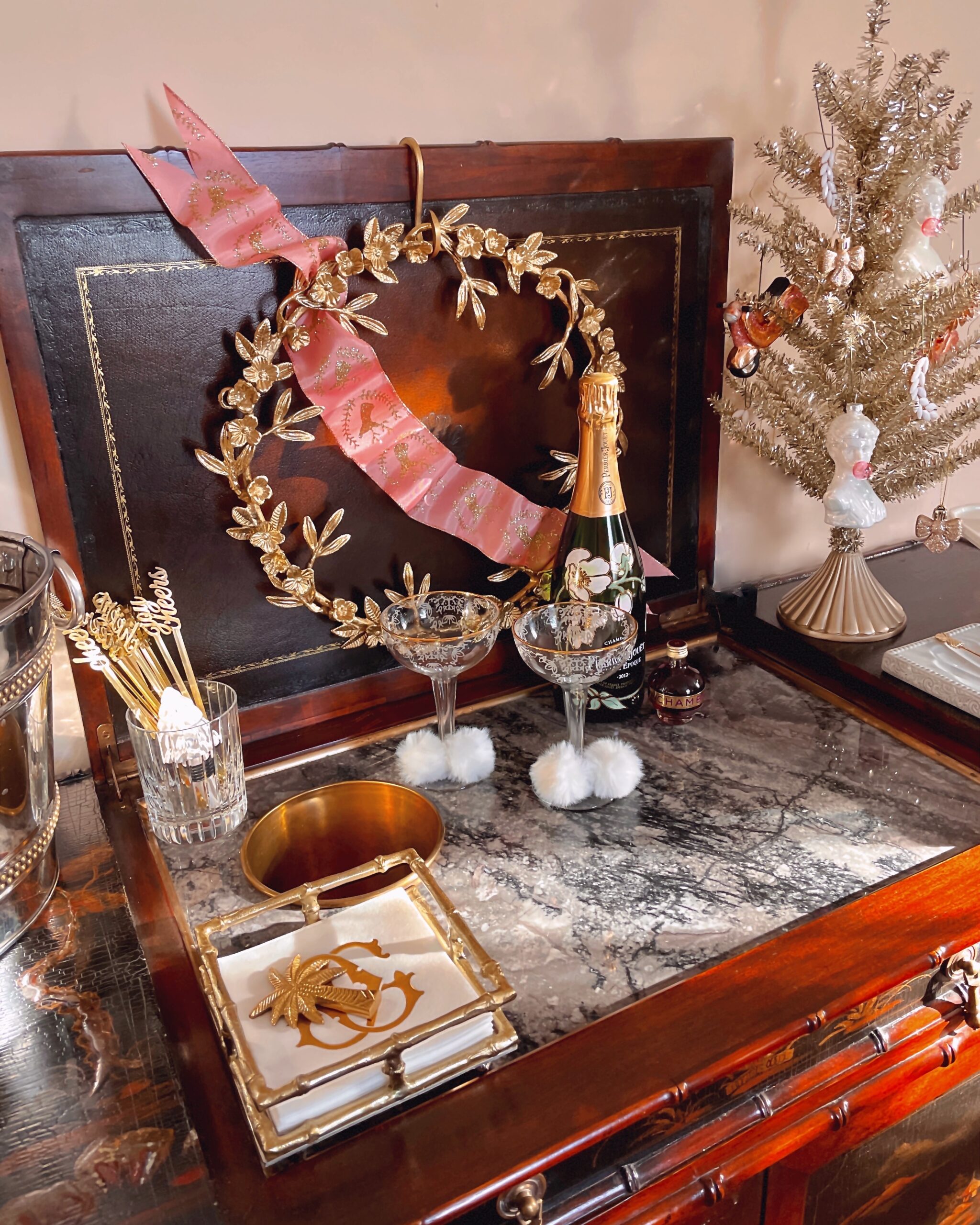 It's five o'clock somewhere, and my oh my, but we love a good cocktail! And in the spirit of instilling a bit of gracious living in your day-to-day (and the holidays!), setting up a bar cart or at-home bar space is a simple way to instantly up the ante on easy entertaining options, making every day a cause for celebration. We love the idea of high-low style here - keeping things balanced between haute couture and haute Home Goods is a great way to ensure everything is at once welcoming and tasteful, while allowing you to get started building your perfect home bar right away. That said, we're always on the lookout for antiques like silver julep cups and beautiful decanters as thoughtful accents, while coveting pieces left by great aunt so-and-so; it's these home bar decor touches that will take your bar to another level.
Read on as we share our favorite home bar decor ideas, sure to dress up your holidays and easily update your kitschy honey-I'm-home routine on the daily.
Start with a Handsome Tray
A tray will carry you (and your spirits) far; it's the perfect building block to begin your bar. Not only will it provide a lovely first layer from a styling perspective, it's also functional should you need to quickly pivot and move a smaller subset of bar items to wherever your party goers have wandered. You can pick a shelf, side table, countertop or just about any surface to establish as your bar space; bonus points if you have an actual home bar or bar cart with which to work; in our humble opinion, investing in a bar cart or bar cabinet is always a good idea. Another option is to cover an existing piece of furniture (like a dresser, small shelving unit or console table) with a lovely tablecloth and place a piece of glass on top. This can serve you well for holiday parties - you can get the glass cut to fit, and you may want to measure your space so you can tailor your tray, ensuring it's just the right size.
Consider Your Beverages
Travel+Leisure advises: "If you're starting yours from scratch, you'll want to lay a solid foundation, covering all of the essential spirit categories and modifiers, bearing our experts' advice in mind. For House, the top-shelf liquor basics include good bourbon, rye, tequila, gin, vodka, Scotch whisky, an amaro, and bitters (both potable and aromatic), along with small bottles of sweet and dry vermouth, which [we] recommend keeping in the refrigerator." Another point to keep in mind is what is most to your taste. What do you want to have in stock to enjoy on the regular, and what do your most frequent guests love? If your bestie loves a good martini, but sure to keep plenty of said ingredients in stock, likewise, if your friends are on the baby-track or don't imbibe alcohol, strongly consider keeping some amazing mocktail makings at the ready for them. Mocktails have come a long way, and there are so many amazing alternatives and non-alcoholic bases to choose from.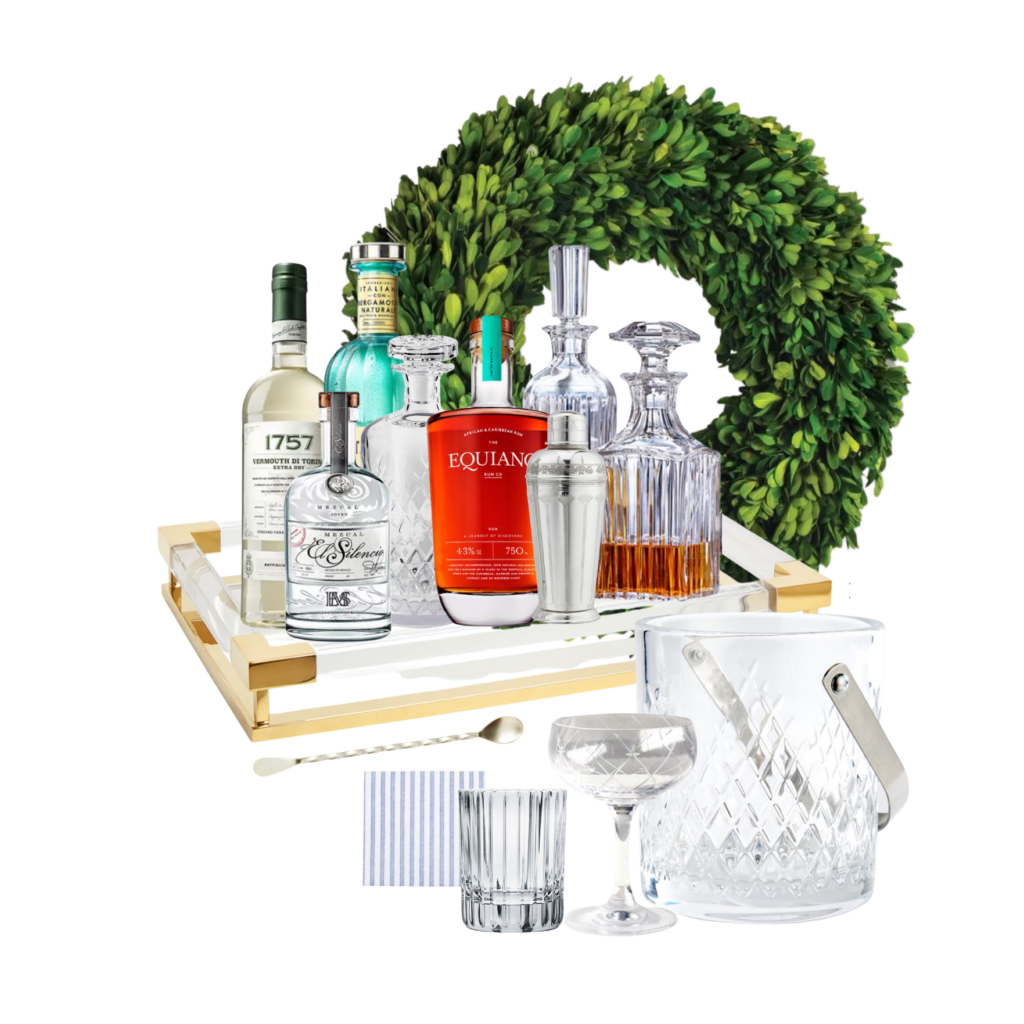 Best Barware
Think through the most often requested drinks and their glass counterparts when determining glassware in which you plan to invest. And while we love gorgeous coupes and specialty glasses, note that these kinds of glasses can be quite expensive (and delicate) and therefore don't necessarily lend themselves as suitable for frequent home use or parties.
Consider the following list of glassware:
Tall glasses for fizzes and cocktails, such as a Tom Collins or Bloody Mary
Short glasses for drinking spirits neat or on the rocks, or for cocktails, such as an old-fashioned, a margarita, or a negroni
Stemmed glasses for cocktails served "up," as you would a martini, a Manhattan, or a sidecar
Shot glasses for shots or sipping spirits (like mezcal) neat
You'll also want to ensure you have a set of barware for making your friend's signature cocktail. From cocktail shakers, to strainers, to jiggers and muddlers, this NY Times Wirecutter article has everything you'll need to ensure your bar is not only sufficiently (but beautifully) stocked. And don't forget to include at least one very attractive crystal decanter; our favorite is this lovely piece from Baccarat that perfectly matches their double old-fashioned crystal glassware. Then, mix in some fun decanters of different shapes and sizes from the likes of Anthropologie or Williams Sonoma to fill in with fun color or other designs. These will add height and visual interest, peppered in with the other liquor bottles, filling out your home bar decor.
Add in Layers
Time to style your home bar or bar cart, carefully placing your bottles and decanters (with the tallest bottles toward the back) and building in a mix of shapes and colors. Next, add in a few pieces of your favorite glassware, and a few pieces of pertinent barware, based on the cocktails you envision serving. For instance, if you know you'll not be providing the ingredients necessary for martinis at a particular gathering, we recommend tucking your martini glasses out of sight.
Next, add a cocktail napkin holder - like this one from Emily McCarthy Shoppe, nice cotton cocktail napkins, like these from Vietri or invest in linen cocktail napkins that are both sustainable and chic. Also add in a small ice bucket and proper ice tongs - we love vintage glass ice buckets - they're petite and the perfect size for a small gathering. And don't forget to buy a larger champagne chiller that can pull double duty as a wine cooler.
For the holidays, we like to incorporate festive greenery, wreaths or garland either above or on our bar, and don't forget to add little touches like silver liquor decanter labels. Also make sure you have plenty of pretty drink stirrers on hand - these are nice to source seasonally - and consider adding a small bud vase, or candles. In fact, candles are the perfect visual cue to indicate that your bar is open, iced and ready to be enjoyed for many happy hours!
We hope you find these home bar decor ideas fun and easy to implement. Be sure to check back here on the Lovely Little Things DC Wedding Blog for more versatile, fun and fashionable entertaining ideas, and don't forget to check out our wedding design portfolio, with plenty of tablescape ideas you can easily incorporate into your next dinner party design!