GOODSTONE INN WEDDING
MIDDLEBURG, VIRGINIA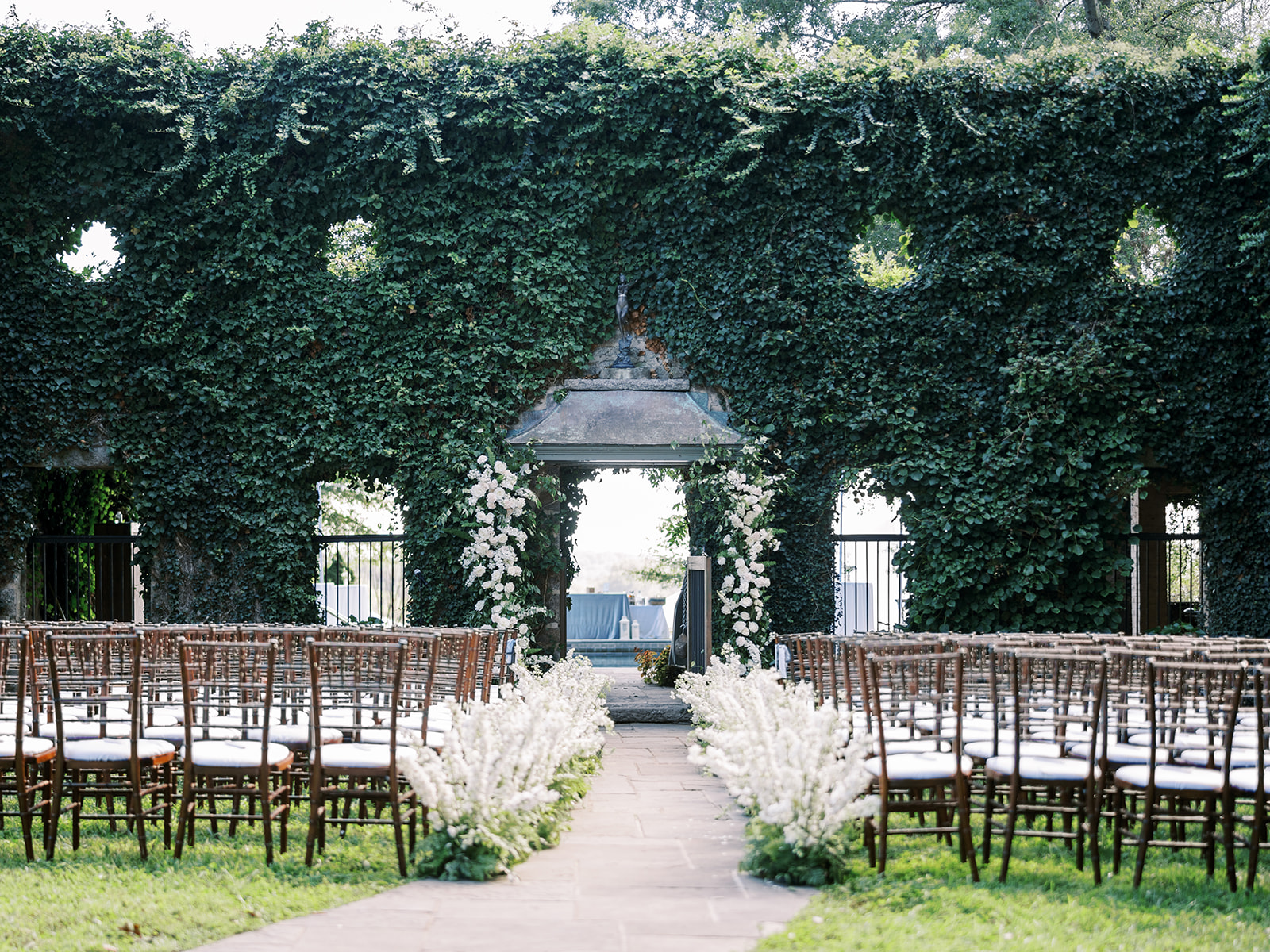 Nestled in the rolling hills of picturesque Middleburg, Virginia, E & R hosted their romantic tented Goodstone Inn wedding celebration. With a history of hospitality dating back decades and graciously outfitted with French and English decor, the Inn's historic cottages provided quintessential countryside estate accommodations for family and friends.
Romantic tented wedding in Hunt Country Virginia at charming Goodstone Inn
CEREMONY & RECEPTION
Goodstone Inn's uniquely romantic ivy wall set the stage as guests were welcomed and invited to be seated for the ceremony. Stepping to the peaceful strumming of the violin & guitar, the bridal party processed down a white flower-flanked aisle, with E & R joining hands under the eaves of ivy to say their vows. After the ceremony, guests retreated to the cool shade of the pergola for cocktail hour poolside, where they enjoyed refreshing custom cocktails, champagne and local farm-to table inspired hors d'oeuvres passed on vintage trays. Later, pastoral views of the surrounding countryside provided the perfect backdrop for their beautiful sailcloth tented reception. Entering under a canopy of flowers graced by a sea of lanterns on either side, guests stepped into the tent featuring french blue velvet linens and on to a gorgeous wood-plank floor. After a delectable three-course dinner, guests danced the night away under the stars.
DESIGN & DETAILS
Wedding design inspiration was drawn from the couple's past and present. Bespoke invitations featured hand drawn renderings of Goodstone Inn, Washington D.C. (where the couple resides in Capitol Hill) and their beloved pup, Zuni in a toile pattern. A custom crest married their names on gift tags and cocktail napkins, while Zuni's likeness graced cocktail stirrers. Under the tent and for cocktail hour, the leather and velvet lounges, carefully-curated collections on the bar backs, and gorgeous floor-to-ceiling mirrored seating charts drew inspiration from the couple's time in Colorado at Hotel Jerome, one of their favorite escapes in Aspen.
design + PLANNING:
k bella events
Photography:
sophie kaye photography