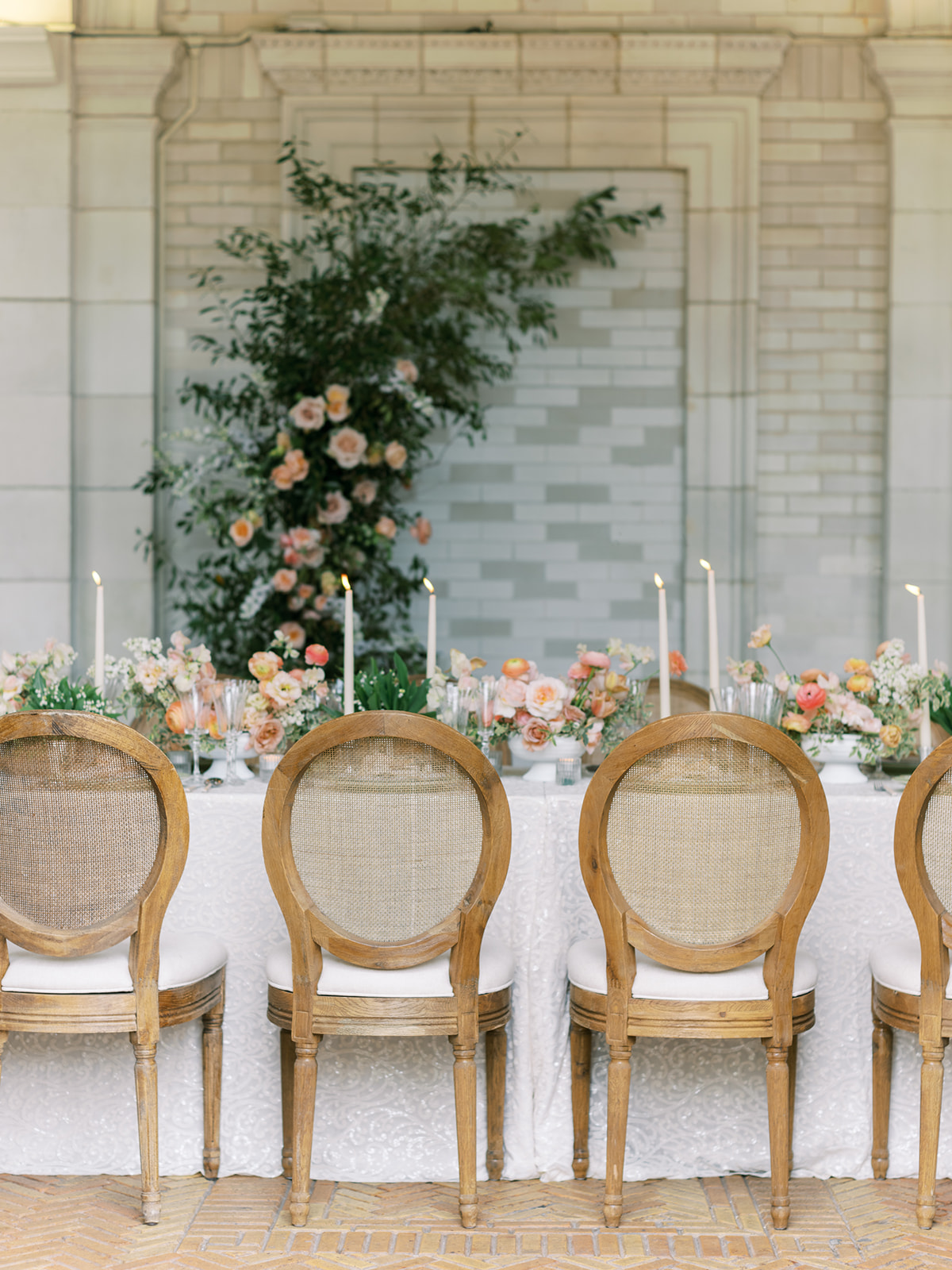 Wedding Tips for Vendors: A Helpful Guide
As the best wedding planners will tell you, wedding tips for vendors is the one category that's most often overlooked by couples creating their own budgets. While tipping vendors is not mandatory per se, we think it's an imperative and thoughtful expression of appreciation for the expert vendor team working hard to bring your dream wedding to life, often over many months leading up to your celebration. 
In some situations, such as with catering, vendor gratuities may already be included in your wedding package. It's essential that you thoroughly review your contracts and discuss them with your planner to determine which vendors should be tipped on the big day. At K Bella Events, we build vendor tipping into our client's budgets out of the gate so we can account for them in the overall spend, which takes the guesswork out of the equation closer to the wedding. Of course, working with a planner makes the wedding vendor tipping process itself smoother, as we will distribute the thank you notes, gifts, and monetary tips per your instructions on your behalf. That said, if you're organizing your wedding without a planner (please, please get a coordinator at the least!), we highly recommend leaving tip envelopes to your parents, your maid-of-honor, the best man, or another trusted friend to remove any extra stress during your celebration.
Confused about which tips go to which vendors and when they should receive them? Read on for our helpful guide to wedding tips for vendors.
Florists
While traditionally, florists, as business owners, were not usually tipped, current etiquette is to tip a percentage of the total services; typically around 10% of the pre-taxed total. And while it may not be expected, if there is a particularly intricate floral piece that must be built or arranged at your venue on your big day, a special tip of 10 to 15 percent would be very welcome, or you can choose to tip per person on the wedding day. Naturally, as is the case for all of your wedding vendors, if you love their services, you should also leave a positive review on industry sites like Wedding Wire and The Knot.
Tailors or Alteration Specialists
Alterations to the bride's dress and the groom's suit, as well as the attire for the wedding party may be part of your wedding dress vendor agreement, and no additional tip is required. However, if you have had to engage a seamstress for emergency alterations or repairs, a gratuity of up to $50 is always appreciated. If you have a large wedding party, you may want to hire a wardrobe stylist for the day to perform last-minute steams and dressing assistance. In that case, you will want to tip them 15-20 percent of the stylist fee when their service is completed as a thank you for helping you and your party look their very best before walking down the aisle.
Makeup Artists and Hair Stylists
In the months before your big day, it's likely that you've discussed hairstyles, obsessed over your look for your bridal trial makeup day, selected hair accessories required to complete your wedding look (and probably those of your bridal party) – all with the consult of your hair and makeup stylists. After these many conversations and decisions, your hair and makeup team will arrive ready to make everyone picture-perfect on your wedding day. Tipping for these wedding beauty magicians tends to follow the same guidelines you would use if you went to a salon: 20 percent of the total fee (and the total should include any costs associated with your trial makeup/hair days!). If your hair and makeup team is handling a large bridal party or staying through the end of the night for touch-ups, absolutely lean toward the higher end of the tip scale. Tip envelopes should be distributed once the main styling has been completed for you and your bridal party, even if you do choose to have a pro on hand during your reception for touch ups.
Wedding Officiants
If your wedding officiant is affiliated with a house of worship, tips are not typically expected, although a small donation to that particular religious institution is a nice gesture and considered in good taste. If you or your immediate family are members of that house of worship, a slightly bigger donation is often warranted, unless you are also paying for the use of their facilities for the ceremony. Plan on donating between $50 and $500 depending on your situation.
Nondenominational officiants for elegant civil ceremonies will often take considerable time getting to know their couples, their histories, and their families. They may work with you to create unique vows or write a story of your relationship to be presented before the more traditional vows. Wedding tips for vendors, in these situations, in addition to officiant fees, are certainly expected. Depending upon how much time they have spent with you in preparation for your day, a tip of between $50 and $100 is recommended. Often, there is a quiet moment between the officiant and the newlyweds as the legal documents are finalized and cocktail hour begins. This is the perfect time to hand them your thank you note and tip envelope. If your schedule of events doesn't allow for this, or you do not want to keep track of the tips, your wedding planner, your parents or your designated witness signing the marriage certificate can easily take care of this for you.
Photographers and Videographers
Next to your wedding planner, your wedding photographer and videographer are in lock step with you for the duration of your wedding day and well into the evening's celebration. If your videographer or photographer owns their studio, traditional etiquette guides may instruct that a tip is not necessarily 'required' for their services. All of their fees, including the costs for additional time covering the reception, editing, and distribution, should be part of your vendor contract with them.
That said, few creative partners will work harder or have longer hours than your photo and video teams, and in our opinion, a tip is a very well-placed thank you for their amazing coverage of this most special of days. These teams are on their feet for ten plus hours on your wedding day alone, not counting the care and time put toward editing and cultivating your wedding galleries and albums. Any tip amount you decide to give will vary depending on the total cost of the service, the number of extra team members, and the total number of events covered, but we suggest 5-10% of the total services rendered. Your wedding planner or coordinator can ensure it is distributed before these most important creative partners depart your wedding after making sure to capture you, your families and the wonderful moments of the day.
Special Wedding Rentals & Delivery Staff
The number of special rental items delivered at an upscale wedding varies depending on the size of the festivities and the selected venue. Many items, such as reception tables and chairs, may be included in your venue package. However, if special items are brought in from outside vendors, it is customary to show your appreciation to the delivery staff. Tips can range from $10 to $20 per delivery, up to $20 per person, depending on the vendor and the unique aspects of the item. If you have a five-tier wedding cake or a priceless antique car delivered to your venue, you will want to land on the higher end of the tip scale.
Ceremony Musicians
Live music performed at intervals before, during, and after the ceremony (be it classical or something modern) is an elegant choice for a refined wedding. Whether you have a single harpist, a Jazz trio, a string quartet, or other performers, the talented professional musicians you hire for your ceremony should be thanked for adding a sophisticated note to your wedding day. Be sure to have each musician receive a tip of $50 at the end of the ceremony as a special thank you.
Reception DJs or Bands
When you hire a DJ for your wedding, you are hiring not only someone to play your favorite dance tunes but also an emcee for the entire event. They will likely work with you to plan out every musical aspect of the ceremony and reception, from your processional, the introduction of the newlyweds, the first dance, the father/daughter dance, and so much more. When budgeting for the entertainment portion of your wedding, you should include a tip of approximately $200 to $500+ for this wedding vendor.
Are you leaning towards hiring a band for your reception? An amazing band will often travel to the venue from out of town, learn special songs for your day, emcee the evening and keep the party going long in to the night. Each band member should be tipped between $30-$50+, depending on the length of the reception, and whether or not they will be taking requests. Don't forget to include their sound techs when making up your wedding tip envelopes. A note that it is perfectly acceptable to wait until the end of the evening to tip the band or DJ. 
Wedding Cake Baker
Wedding cakes can be true works of art, and, understandably, you may have an impulse to tip your baker in appreciation – and you most certainly can! That said, your wedding cake baker is a vendor who you do not necessarily need to offer a monetary tip; you may want to take into consideration tipping the cake delivery person, especially if the cake will require a special installation.
Reception Catering Team
Review your catering contract with your wedding planner, as tips for the chef, catering manager, the maître d', waitstaff and bartenders are often included. If this is the case, you would only tip the wedding reception team if the service went far above and beyond what was expected. Otherwise, those fees are paid when the final reception bill is due.
If your contract does not include tips for vendors, consider each service provided. Your chef should receive at least $100, adjusted upwards depending on the overall cost of your catering and the number of special requests. Catering managers typically receive tips of approximately $200, if they are not covered under your wedding contract. Likewise, the headwaiter/captain could receive a tip of up to three percent of the bill for their services. Bartenders and waitstaff would split a tip of between 15-20 percent of the total food and liquor bill, with the catering manager distributing the tips at the end of the evening. This is definitely one item to discuss with your wedding planner so that you tip appropriately based on the level of service. If you hired your bartenders separately, tipping around $10 to $15 per guest is a good range for their assistance throughout your event.
Attendants
Tips for attendants are an easy calculation. Each attendant should receive $2 per wedding guest. This is true for the vendors providing coat check, bathroom, and parking attendant services. This alleviates the need for guests to keep cash on them, as the tips will be pre-paid for the entirety of the event.
Transportation
Wedding transportation vendors, including those providing limousines, luxury SUVs, and event shuttles, usually factor tips into their service contracts. If your contract does not include gratuity, a tip of between 15 and 20 percent to thank them for making your guests comfortable and transitions easy could be distributed at the end of the evening.
Wedding Planners
Wedding planners like our team at K Bella Events manage an extraordinary amount of details for your celebration. The best wedding planners will be involved in every aspect of your special day, and it is understandable that you may want to thank them for designing and flawlessly executing a stunningly beautiful event. Tips can range from personal gifts to monetary contributions. If you do want to offer a monetary gift, you may want to consider $250 up to $1,000 as a general rule, with some opting to do 15 percent of the total package price. Keep in mind your planner's assistant(s) who provide help on your wedding day - any where from $50 - $150 is appropriate, with higher amounts depending upon the level of service provided.
It truly takes a village to pull together a wedding; remembering and showing your appreciation to your wedding creative partners and vendor team, many of whom will have worked with you for months of planning, is the gracious thing to do in our view. That, and a glowing online review, of course! We hope this guide to wedding tips for vendors has been helpful! The K Bella Events team is here to answer any questions you may have, and to help guide you in the steps to planning a wedding.