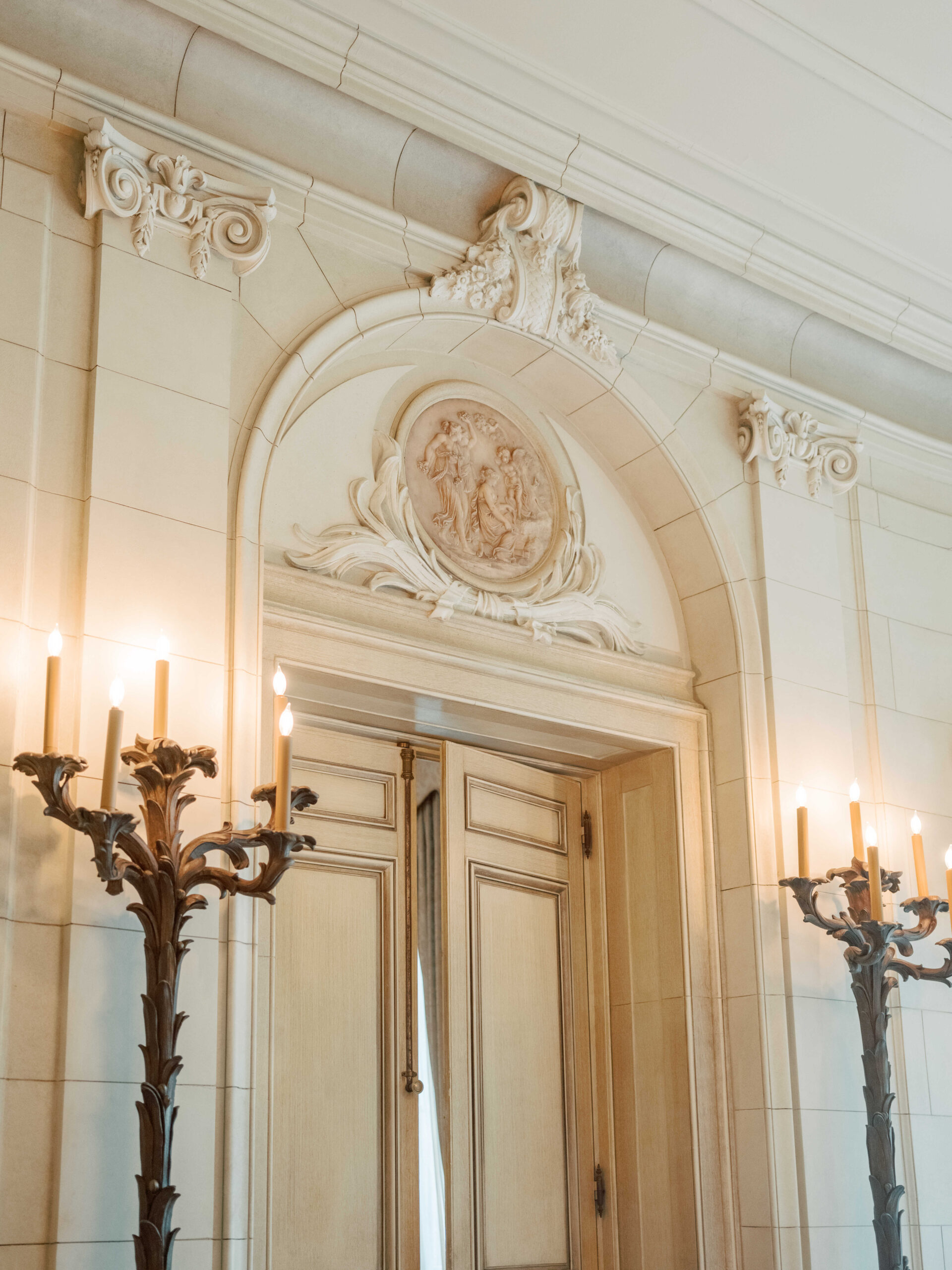 Choosing the right luxury Washington, DC wedding venue is one of the most important decisions our couples make when planning an elegant wedding experience. It's imperative that the style and amenities of your selected venue fit your vision for the day, whether that's a sophisticated black-tie ballroom affair for 200 or a softly romantic outdoor wedding for 50. Luckily, the city has many exquisitely designed venues that will provide a beautiful backdrop and wonderful guest experience. Read on as we share some of our very favorite luxury DC wedding venues, many with whom we've worked, and a few that are on our bucket list!
Designed by famed architect John Russell Pope, Meridian House was constructed in 1920 for Ambassador Irwin Boyle Laughlin. One of our favorite DC venues, Meridian House has been carefully updated throughout the years, while faithfully preserving much of the original architectural detailing and impressive decorative elements, including the often-celebrated 18th-century European paintings over the doors. For couples, the house is only one element of this luxury wedding venue. With more than three acres of divinely designed gardens and a courtyard still beautifully adorned with the 40 linden trees imported during the home's construction, your guests may feel like they have stepped onto an estate in the French countryside rather than being only a mile north of the White House. Couples can easily enjoy an outdoor wedding ceremony in the garden, cocktails among the linden trees, and a reception that flows from the drawing-room back into the grove. We love how it all feels remarkably intimate – as if you are entertaining in your own private manor house; the drawing room has a lovely warm glow at night, and the library has a distinct and upscale residential vibe. The nearby The Line Hotel is our choice for wedding guest accommodations that will charm.
In our humble opinion, this DC wedding venue's breathtaking atmosphere is second only to their wonderfully attentive staff. The venerable Mayflower Hotel has been at the center of illustrious affairs since its earliest days in 1925. This luxury hotel has played host to cocktail receptions and state dinners, inaugural balls, charity galas, and auspicious weddings. It's no wonder so many Washington couples want to add their stories to The Mayflower's uniquely rich history. Here, you can plan a joyous affair for 300 in the refreshed District Ballroom or a gorgeous wedding reception for 1,150 in The Grand Ballroom (which certainly lives up to the name). More than an elegant wedding venue, this Washington, D.C. icon infuses your celebration with a sense of timeless tradition, while also offering a remarkable culinary team. We just love the historic vibe and ambiance here, and The Mayflower team's attention to detail, paired with our design + planning, allows your event to feel entirely bespoke.  
National Museum of Women in the Arts
Located in the heart of Washington, D.C. on New York Avenue, the National Museum of Women in the Arts features a ballroom that inspires awe. This elegantly glamorous luxury wedding venue begins with a marble reception space that flows into a striking ballroom dotted with brilliant works of art (part of the museum's permanent collection) and three opulent crystal chandeliers. The dazzling blend of art, marble and beautiful light never fails to impress, and photos in this space are the stuff of wedding dreams. A mezzanine level overlooks the ballroom and can be accessed by gorgeous white marble staircases that allow for a grand entrance for the bride & groom. While the ornate mezzanine level can easily be incorporated into any dinner reception, slightly smaller affairs can use the space for a sophisticated cocktail hour while reserving the lower level for dinner and dancing. We love the grand staircase for entrances and the ability to look over the balcony as guests dance the night away. For wedding guest accommodations within walking distance, we love the stylish and cosmopolitan Sofitel Washington DC Lafayette Square. With its art-deco vibe and beautiful bar, this luxury hotel offers an easy after-party destination.
Fairmont Washington, D.C., Georgetown
We love the Fairmont – it's a sea of calm in the midst of the city, and couples simply adore saying "I do" in the lush bower of The Courtyard Garden. Recently refreshed, The Fairmont features contemporary DC wedding venues ideal for a variety of celebrations, from softly romantic to boldly modern. From an outdoor wedding in The Courtyard, couples can flow into the adjacent window-filled Colonnade Ballroom (one of our favorite spaces on site, and well-suited for up to 350 guests), wind their way down the majestic Grand Staircase to the stunning Grand Ballroom (seating up to 700), or enjoy the delights of the contemporary Kennedy Ballroom (ideal for up to 300). Whichever space you choose, you'll be treated to the efforts of their award-winning culinary team and events staff, who work side-by-side with us to ensure your wedding flows flawlessly and celebrates the best of you and your spouse-to-be. 
Since its doors opened in 1928, The Hay-Adams has been known for its extraordinary elegance, delectable cuisine, and impeccable service. As you would expect from such an iconic wedding venue, every aspect of this luxury Washington, D.C. jewel impresses, from the opulent interiors to the dazzling rooftop "Top of the Hay" event space that offers inspiring panoramic views of the White House, Lafayette Park and the city beyond. Your guests will be awed by the view, and landmark photo opportunities abound. Our couples often make the Hay their hotel of choice for their wedding weekend; it's a lovely space for getting ready and a perfectly positioned base from which their guests can explore the city. Here, history is partnered with acute attention to detail. The venue's insightful staff has a reputation for seamlessly collaborating with couples and wedding planners to create a perfectly personalized celebration, whether you plan an intimate ceremony or a lavish event for 250 friends and family.
If you've dreamed of a wedding in a historic Washington, D.C. venue, the Anderson House (aka the Larz Anderson House) is the quintessential choice. This Gilded Age mansion on Embassy Row in Northwest D.C. serves as the headquarters for the Society of the Cincinnati, a research library and a museum revealing early 20th-century life in Washington. Filled with extraordinary tapestries and magnificent artwork, it's easy to feel like you have stepped back in time when you enter this special venue. To add to the wedding experience, you can also hire docents to provide information about the house to your guests during your reception. Host your wedding cocktail hour in the upstairs gallery, your ceremony in the flawlessly designed courtyard, and enjoy the old-world charm of the breathtaking ballroom as you and your loved ones toast to the start of your new life together. For larger parties, a tented reception can smoothly flow from the outside courtyard into the ballroom to dance the night away. Situated close to Dupont Circle and Georgetown, accommodation options abound only a short Uber ride away; Kimpton Hotel Palomar is a nearby favorite.
Light-filled ballrooms, a contemporary design aesthetic, and modern amenities are just a few reasons why couples looking for luxury DC wedding venues love The Conrad. The ballrooms are blessed with floor-to-ceiling windows, high ceilings, and a sophisticated palette that allows couples to design these spaces to fit their style and needs. While the Grand Ballroom can welcome 400 wedding guests for banquet seating, intimate ceremonies and celebrations can be held on the rooftop terrace. That elevated perch boasts spectacular views while adding an extra dose of romance to wedding photos and cocktail hours. From the moment your guests arrive in the awe-inspiring atrium, they will be treated to a genuinely inviting wedding experience. Serenely-styled accommodations allow for peak relaxation, and your friends and family will adore being located in D.C.'s city center, with all of downtown's shopping, dining, and sightseeing options at their feet. 
The Cosmos Club, founded in 1878, came to prominence as a private social club for those who have distinguished themselves in science, literature, public service and the arts. But what is less known about the Cosmos Club is the mansion's standing as one of the most beautiful and unique luxury DC wedding venues. Stepping into this historic venue is like stepping back in time – inspired by classical French style, it reflects the Beaux Arts training of its architects. From an intimate ceremony and reception for 80 guests in the East Garden to a 200-guest reception-style celebration in the Warne Ballroom (130 for a seated dinner with a dance floor), the graceful elegance of the Cosmos Club whispers of romance and sophistication from the Gilded Age. A two-night stay in the bridal suite is one of the special privileges open to couples who say "I do" on the grounds.
Historic elegance washes over you when visiting the famed DAR Constitution Hall. Originally built to house the annual convention of the Daughters of the American Revolution in 1929, DAR Constitution Hall remains a favorite luxury wedding venue for couples in the Washington, D.C. area. Set adjacent to the Ellipse and only blocks from the White House, this venue boasts sweeping views, stunning Beaux-Arts architecture, and a versatile selection of indoor and outdoor spaces well-suited for intimate ceremonies of 10 or grand affairs of up to 1,500 guests. Outside wedding ceremonies on the Portico are a particular favorite of couples, as this beautiful spot features the unmistakable Washington Monument as its backdrop. A cocktail hour amongst the columns in the covered rotunda, followed by a seated reception for 140 in the O'Byrne Gallery, is among the most requested venue options by couples dazzled by the barreled ceilings and herringbone floors. And for a night of dancing under the stars, a return to the Portico is perfection during the warmer months. For larger events, you'll adore the extraordinary experience of celebrating your love in the Constitution Hall Lobby, which can happily accommodate up to 700 seated banquet guests. We love these spectacular venues for their classical style and versatility – nearly any design aesthetic will work in these amazing spaces!
Known for its refined 18th-century style, the St. Regis Washington D.C. is a luxury wedding venue that evokes a sense of wonder as guests take in its historic grandeur and European design. The hotel's largest venue is the Venetian-inspired Astor Ballroom, which is adorned with crystal chandeliers and stunning Palladian windows. The impeccable space can seat up to 400 guests for a night of elegant celebration. The ballroom opens up to the Astor Terrace, a lushly captivating space that can be transformed into a wedding ceremony or unique reception venue for up to 250 guests. It's also a sophisticated choice for refined cocktail hours and chic rehearsal dinners. The new Astor Pavilion is an exquisitely designed reception tent featuring French doors, cathedral windows, and a translucent two-level canopy. Available year-round by request, this stunning pavilion creates a warm and inviting oasis on the Terrace during the winter months, allowing guests to flow from the Astor Ballroom onto the fairytale-like terrace in comfort and style.
Infused with a true sense of romance and classic sophistication, The Willard is one of the most popular and prestigious luxury DC wedding venues, and one of our favorites. This historic hotel calls The White House their neighbor, so it's no surprise that our couples adore this landmark when celebrating their own story. Iconic Washington, D.C. is all around the hotel, which offers magnificent venues for rehearsal dinners, wedding ceremonies, receptions, brunches, and more – and has played host to grand events since 1818. The restored Beaux-Arts hotel features an array of dazzling venue options for your special day, from the stunning Crystal Room (featuring crystal-dripping chandeliers, majestic columns, hand-carved gold-leaf molding, and opulent drapery) to the breathtaking Grand Ballroom (complete with beveled mirrors, exquisite hand-painted murals, magnificent chandeliers, and private entrance foyer). And every space can be highly personalized to meet your vision. These gorgeous venues are perfectly complemented by the sumptuous cuisine and the world-class service. Their attention to detail is legendary, as is their ability to work seamlessly with K Bella Events as your wedding planner to make your wedding dreams a reality. 
Learn more about our planning process and services; we're here to assist as you begin the process of planning your luxury Washington D.C. or Virginia wedding.