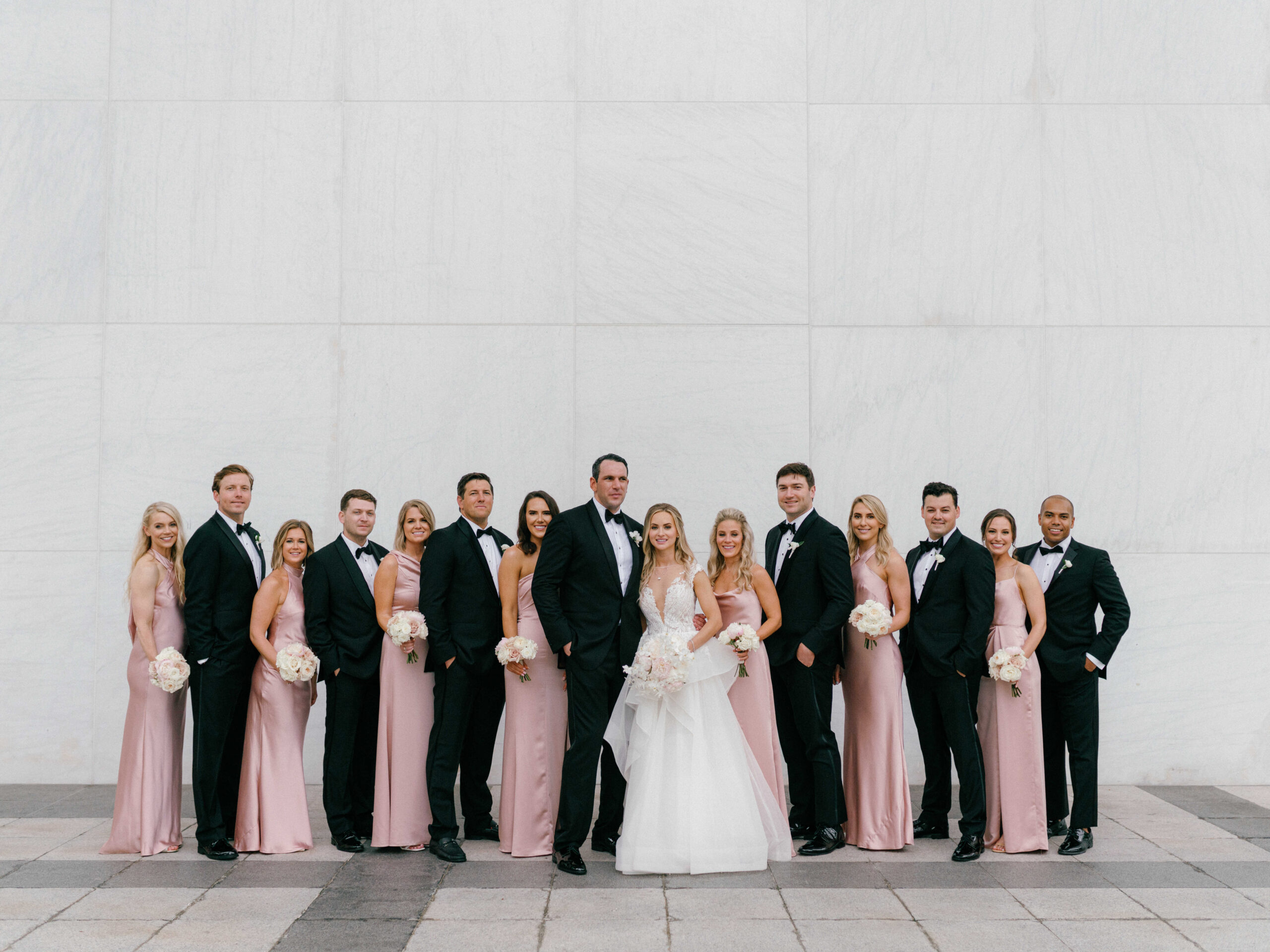 Creating a Luxury Wedding Budget
It's true that creating your luxury wedding budget will not be the most exciting part of planning your big day, but it is absolutely critical. When you sit down with a wedding planner, like K Bella Events, we'll work with you to design the celebration of your dreams by focusing on your style, vision, and priorities. Together, we'll create a highly personalized budget for your luxury wedding, whether you are hosting an elegant experience for 50 guests or 250.
What Impacts a Luxury Wedding Budget Most?
Krystin Gill of K Bella Events: "Each guest you invite to your wedding will cost you hundreds (if not thousands) of dollars. Your guest count impacts nearly every aspect of your luxury wedding budget, from the size of the ceremony and reception venues to extending coverage for photography or videography to capture all of your weekend events. Naturally, the number of guests will also significantly impact your catering needs – from the signature libations during cocktail hour to the size of the cake (or cakes!). Additional bartenders and waitstaff will need to be hired for larger parties, and transportation to and from the venues may need to be increased. Even the special details for a lovely guest experience and amount of wedding décor and rentals will need to be adjusted based on the size of your list."
Because the guest count is critical to early wedding planning success, couples may struggle to craft the initial invitation list. Krystin: "An exercise we share with our clients when it comes to determining their guest list is to think about when you last saw this person – would you look forward to grabbing dinner or drinks with them this weekend? Will you still know them in 5 years? It's absolutely okay to limit your guest list to one of the most significant days of your life to those special people that mean the most to you and your partner. If the last couple of years has taught us anything, it's that less can sometimes be more – and we love an exclusive party. That said, if you have 200+ VIPs (many of our couples do!), the more, the merrier; it's completely up to you!"
How Do I Start Creating a Budget?
If the prospect of creating a wedding budget feels overwhelming, take comfort in the fact that you don't have to go it alone. In fact, this is one of the tremendous advantages of hiring an expert wedding planner like K Bella Events.
The best wedding planners are designers, budget managers, and stylists, as well as contract negotiators, counselors, and Day-of coordinators. Because they take on all of these roles, they have unique insight into every element of planning a luxury wedding, including those tiny behind-the-scenes details that would otherwise be overlooked. They'll also help you create a contingency fund in your budget to handle gratuities, little touches and advise you on how best to handle any increases in scope that may arise.
From day one, your wedding planner and wedding designer will discuss with you how to best celebrate your unique love story and incorporate your personal style. They'll help you focus on your priorities, create a cohesive design plan based on your estimated budget, and brainstorm with you about how to create a gorgeous celebration that will long outlive the day. They'll keep track of your budget throughout the planning process and raise any issues with you before they become potential problems.
You'll also benefit from your wedding planner's industry relationships. This allows you and your planner to curate an expert creative vendor team who will work efficiently together to bring your bespoke wedding plan to life. And as Krystin notes, "our relationships with vendors, venues, and knowledge of the industry gives us the ability to pull in the right talent to fit your personal style and event needs."
What Items Are Typically Included in a Luxury Wedding Budget?
To help you get started, we've pulled together a general breakdown of items that most luxury wedding budgets entail. You can find a number of calculators online that assign a budget percentage based on an average. Here is a breakdown from Brides that can be used as a general rule, but note that it doesn't include a budget for full planning – and this breakdown doesn't account for adding in custom builds, tenting or additional wedding weekend activities, for instance. These percentages can shift pretty significantly depending on your wedding style and priorities, and the associated costs can vary widely based on your wedding market and where you live. This is where your trusted planner like K Bella Events can come in to help guide you to ensure your investment is well allocated.
Wedding Planner
Hiring an expert wedding planner to help you plan and design your luxury celebration is the first and most important step. The cost varies quite a bit depending on what services you require and the level of experience your planner offers. If you are only hiring someone to be your Day-of coordinator, the budget will be vastly different than if you hire a full-service wedding designer and stylist.
Paper Elements
This budget category covers everything from your invitations and Save The Dates to reception place cards. Tented escort cards, printed menus, custom cocktail napkins, and signature cocktail signs could be included here. You can also include the cost of personalized Thank You cards and postage in this section.
Wedding Rings
Your wedding ring budget should allow for the rings themselves, as well as any engraving or customization that you require.
Attire and Beauty
Selecting a custom wedding dress (or multiple dresses) from a luxury designer will impact the percentage of your budget dedicated to attire. You'll also want line items for tuxedos or suits, bridal accessories (like your veil), and elegant shoes. You may want to add the cost of a sophisticated rehearsal dinner dress, a different gown for the reception, or an After-Party outfit. Are you planning a Morning-After brunch? You may want to include a brunch outfit in the budget as well.
Hair and makeup trial appointments, as well as Day-Of styling, are critical components. These budgets should include pre-wedding color and cuts, as well as any personal care appointments. Don't forget to set aside a 20% tip for your hair and makeup team.
Ceremony
If you're planning a ceremony at a different site from the reception venue, you may need to make a small donation to the church or pay fees associated with setting up the space or a venue rental fee. You will also need to account for the marriage license costs and the officiant's fee.
Reception Venue and Catering
Naturally, this budget category for luxury weddings is the largest. It will typically include the reception food and beverages, the cocktails and appetizers for your cocktail hour, vendor meals, bartenders and waitstaff, and any catering rentals not included in your venue package. You should also create a separate line item for the rehearsal dinner costs (including venue, food & bev, and any music), which would be on top of the fees for your wedding day.
Wedding Cake
Typically, the cake and the associated fees (toppers, stand, delivery fee, and other desserts) will account for about two percent of a luxury budget.
Flowers
Beyond the bridal bouquet, flowers for the bridal party, and boutonnieres for the groom and groomsmen, stunning floral arrangements are the cornerstone of chic wedding design. From a floral wrapped ceremony arch or Chuppah to "living wall" reception backdrops, flowers play a significant role and cost depending upon the overall design. Many floral designers have minimums they require, and the types of flowers will also factor into the costs associated with this piece of the budget.
Rentals & Décor
Most luxury wedding receptions feature specialty rentals and décor that go well beyond the floral arrangements. This cost can easily increase depending upon what you have planned. Far beyond tabletop items like linens, china, glassware, and flatware, rentals and décor can include styling items for custom bars, tables, dance floor wraps, lighting, elaborate centerpieces, elegant furnishing in lounge areas, rugs or flooring, draping, escort walls…the list goes on. Your wedding planner or wedding designer will help you determine which of these will make the biggest impact on the overall design and improve the guest experience.
Music and Entertainment
This budget category includes ceremony musicians and the cost of having a live band or DJ at the reception, as well as items like ceremony sound set-ups, photo booths, special dance floor lighting, and other fun extras.
Photography and Videography
The bulk of your budget for photography and videography will go toward Day-Of services. However, you'll want to ensure your budget for professional photography covers taking your engagement photos, your rehearsal dinner, and perhaps even capturing photos of the Morning-After brunch, as well as any scheduled wedding weekend activities with out-of-town guests.
Wedding Favors and Gifts
You'll want to include budget line items for wedding reception favors, gifts for your bridal party, spouse gifts, and welcome gifts for out-of-town guests. Don't forget to include the cost of robes for your bridesmaids or gifts for your parents, too.
Transportation
Transportation typically accounts for a small portion of a luxury wedding budget. The actual amount will vary depending on the number of shuttles you might need for guests to travel to/from the venue to their hotels, valet parking, and any cars and drivers hired for the wedding couple, parents, etc. Don't forget to account for shuttles to and from any weekend activities, the rehearsal dinner and rides to/from the airport for your VIPs.
Tenting, Back of the House Structures & HVAC
From Krystin: "Often overlooked in online budget calculators are the costs associated with many of our client's favorite kinds of venues – those we build from the ground up!" Tenting and the back-of-the-house structures needed to support events that incorporate them are often included in luxury weddings and come with their own set of challenges and contingency planning. Your wedding planner should have the resources and relationships to suggest a reputable tenting company to ensure your tenting is installed properly, and should work with you to factor in all of the associated costs with tenting – heating & cooling, generators, flooring, lighting, restroom trailers, pathing, etc.
Contingency Fund
When designing a luxury wedding budget, giving yourself a cushion to help anticipate unexpected expenses is always a smart idea. Krystin: "At K Bella Events, we also build in all gratuities for each vendor, sales and occupancy taxes, and all delivery fees so couples have a crystal clear understanding of where their budget stands. It's important to decide if personal planning costs will come out of the budget, and to keep that separate from the overall budget upon which your planner's fee will be determined, especially if it is percentage-based, like ours. At the end of the day, transparency and a clear understanding of the budget is of paramount importance to us with our clients. It helps all of us (the K Bella Events team and our clients) make informed decisions for what we know will be a truly lovely day – or days! – for our clients and their guests."
Putting together a luxury wedding budget involves managing an array of details and a plethora of moving parts. If you want to learn more about the benefits of working with an expert wedding planner who can manage not only your budget but act as a designer, stylist, and curate a stellar vendor team (among so many other critical roles), read The Best Wedding Planners Offer Invaluable Expertise.