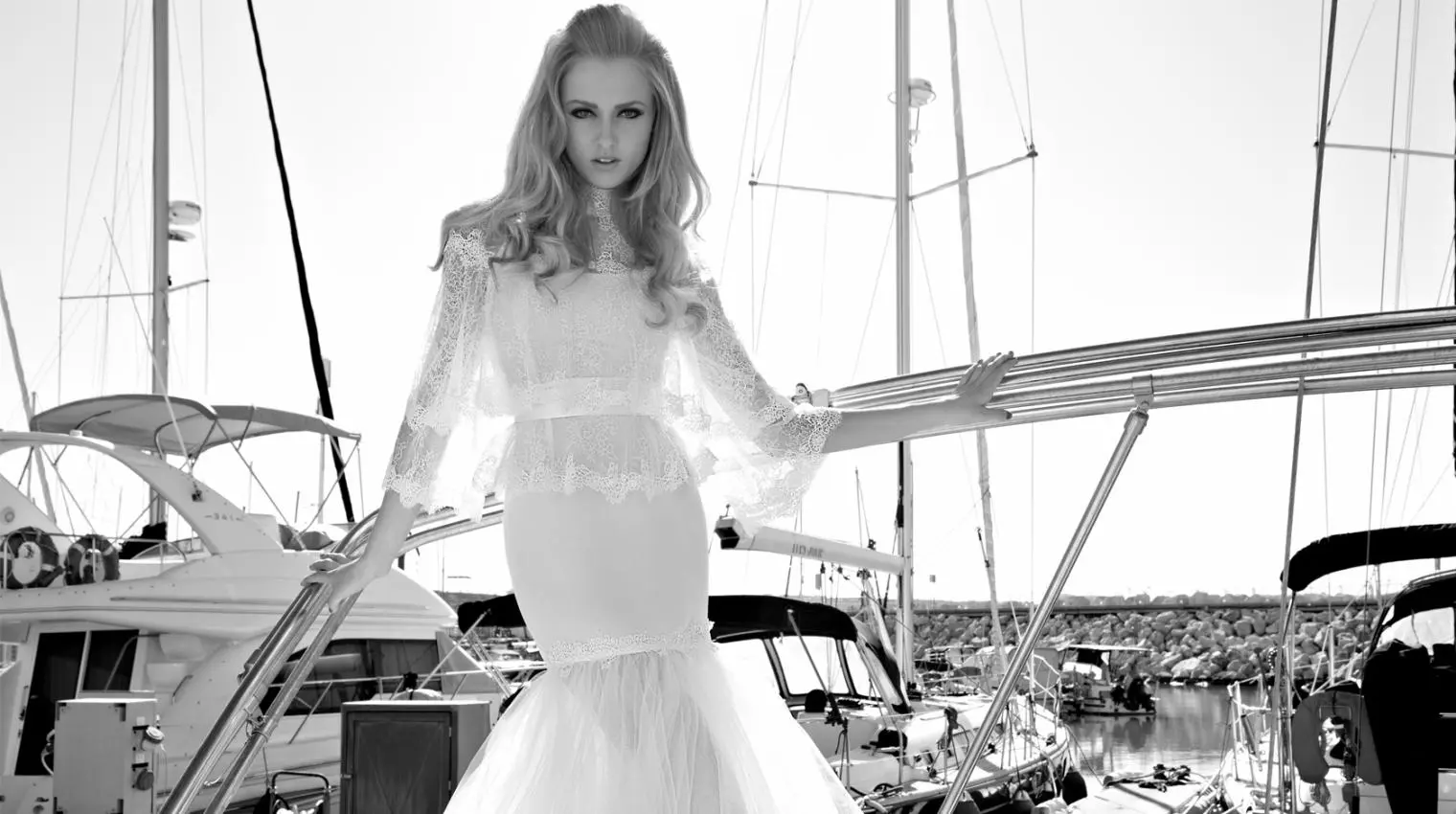 Few luxury wedding dresses reflect a sense of drama, joy, and exuberance as renowned designer Galia Lahav's couture and ready-to-wear gowns. Sought after by celebrities and socialites alike, each magnificent dress highlights a bride's confidence and "unapologetic uniqueness." From sultry mermaid-style dresses to regal ballgowns fit for a princess, these swoon-worthy dresses make a statement. Galia Lahav wants you to feel like the superstar you are, and in one of these luxury wedding dresses, there is no doubt that you'll shine.
Luxury Wedding Dress Designer Beginnings
Born into a family of seamstresses, Galia Lahav was raised and educated in Israel. Now considered one of the most successful haute couture designers in the world, Lahav's career began as an arts, crafts, and needlework teacher. In fact, she taught the man who would someday become her business partner, designer Sharon Sever.
Her love for intricate detailing and extravagant, handmade lacework not only made her a successful teacher but it propelled her into launching her first shop in 1985. As a recent profile in Harper's Bazaar revealed, the focus of her early business was on "knitted applique and embroidery." Still, before long, her exquisite work evolved into crafting luxury wedding dresses and dramatic gowns for the truly fashion-forward.
The lavish gowns designed at Galia Lahav House of Couture were revolutionary – which, of course, was the goal. Lahav was fearless, frequently breaking with traditional wedding dress styles to create dramatic, eye-catching gowns that were figure-skimming and impeccably customized. In 2016, Harper's Bazaar heralded: "The Israeli fashion brand was granted haute couture status by the esteemed Chambre Syndicale de la Haute Couture, placing it in the same category as Christian Dior, Giambattista Valli, and Givenchy."
The Galia Lahav Aesthetic
Galia Lahav's luxury wedding dresses are romantic, lavish, and sultry. The brand promises the glamour of red carpet moments, along with a sensuality that was unusual for bridal couture prior to Galia's collections. Illusion backs, handsewn Italian ivory lace, and voluminous silk tulle skirting are among the elements critical to Galia Lahav. Each opulent gown is customized for a perfect silhouette that is as unique as every bride.
"We don't sell clothes or dresses; we sell dreams. And when you want to fulfill a girl's dream, that manifests itself in just one night for a few hours, it has to wow you." Galia Lahav and Sharon Sever, Videofashion! Interview
And, as it was in the beginning, intricately designed embroidery plays a significant role in every luxury Galia Lahav wedding dress. The brand revealed to Harper's Bazaar that approximately "1,000 embroidery designs go into creating one final look and more than 10,000 threads are used to create the consequent gown."
In 2016, Galia Lahav launched her newest label, GALA by Galia Lahav. This made-to-order bridal line embraces the subdued-but-sexy approach of her couture work while trending toward the whimsical and romantic.
"The GALA gowns are known for sweet-and-sexy cuts, soft fabrics, and the undeniable fashion-forward look, all while maintaining the fashion house's fingerprint of high quality and comfort." Galia Lahav
The spring/summer 2022 "Do Not Disturb" collection features "a subtle yet unexpected [color] palette of warm ivory, blush, powder pink, nude and champagne." Voluminous ball gowns and "sultry mermaid styles" include "fanciful touches from sculptural off-the-shoulder sleeves to floral lace applique and sheer cut-out details." From frothy tulle to playful feathers, from exotic embroideries to delicate beading, each curated element combines to create a dazzling version of a bride on their wedding day.
The Galia Lahav Bride
A Galia Lahav bride loves high fashion, daring statements, and curve-skimming silhouettes. She is confident and always the star of her own story. Galia Lahav's brides are bold and ready for their close-up. From the dreamy "Telenovela" wedding dresses to the extravagant decadence that radiates from the "Do Not Disturb" spring/summer 2022 designer line, brides are celebrated for their "unapologetic uniqueness" and endless sense of fun. It's no wonder that so many celebrities and socialites have gravitated towards Lahav's stunning couture gowns.
Would a feminine off-the-shoulder luxury wedding dress with blousy sheer silk sleeves make you feel like a queen? Beyoncé would agree, as she chose a Thelma gown from the regal "Victorian Affinity" couture collection for her vow renewal with Jay Z.
Tennis star Sloane Stephens wanted to feel regal in crystals and sequins, while the dress made for Paris Hilton for her first dance needed to evoke a fairytale princess with a silk tulle skirt that sparkled. Whatever dream you have, Galia Lahav's luxury wedding dresses can make them a reality.
The Cost of a Galia Lahav's Luxury Wedding Dresses
Gowns from Galia Lahav's couture collections are all custom designs. Additional detailing, like hand-sewn lacework, crystals, and sequins, will impact the price point. The design process itself, as well as the number of alterations, can also affect the cost. Currently, Galia Lahav estimates that the luxury wedding dresses in her couture collections range from $7,000 to $20,000. Gowns from her exquisite made-to-order collection, GALA by Galia Lahav, range from $5,000 to $8,500.
What We Love About Galia Lahav
K Bella Events' owner & lead designer, Krystin Gill says "Her dresses are unmistakably romantic and sexy. For brides that want to make a statement, Galia Lahav's gowns are at once fashion-forward and feminine. We love their intricate, handmade beading and daring silhouettes – my favorites incorporate plunging necklines, and her suiting makes for a sleek rehearsal dinner or chic courthouse wedding look."
Can I Find Galia Lahav Luxury Wedding Dresses Locally in the Washington D.C. Area?
Unfortunately, no. However, as noted by a recent profile, "Galia Lahav and GALA by Galia Lahav 2022 collections are available at 70 luxury retailers in 40 countries, with flagship stores located in Tel Aviv, Los Angeles, New York, and Hamburg." That sounds like the perfect excuse to schedule a trip to New York!
More on Luxury Wedding Dresses
If Galia Lahav's intricately embroidered, fashion-forward gowns have inspired you, please visit our luxury wedding dresses page for more on the latest trends, designer insights, and exquisite creations.