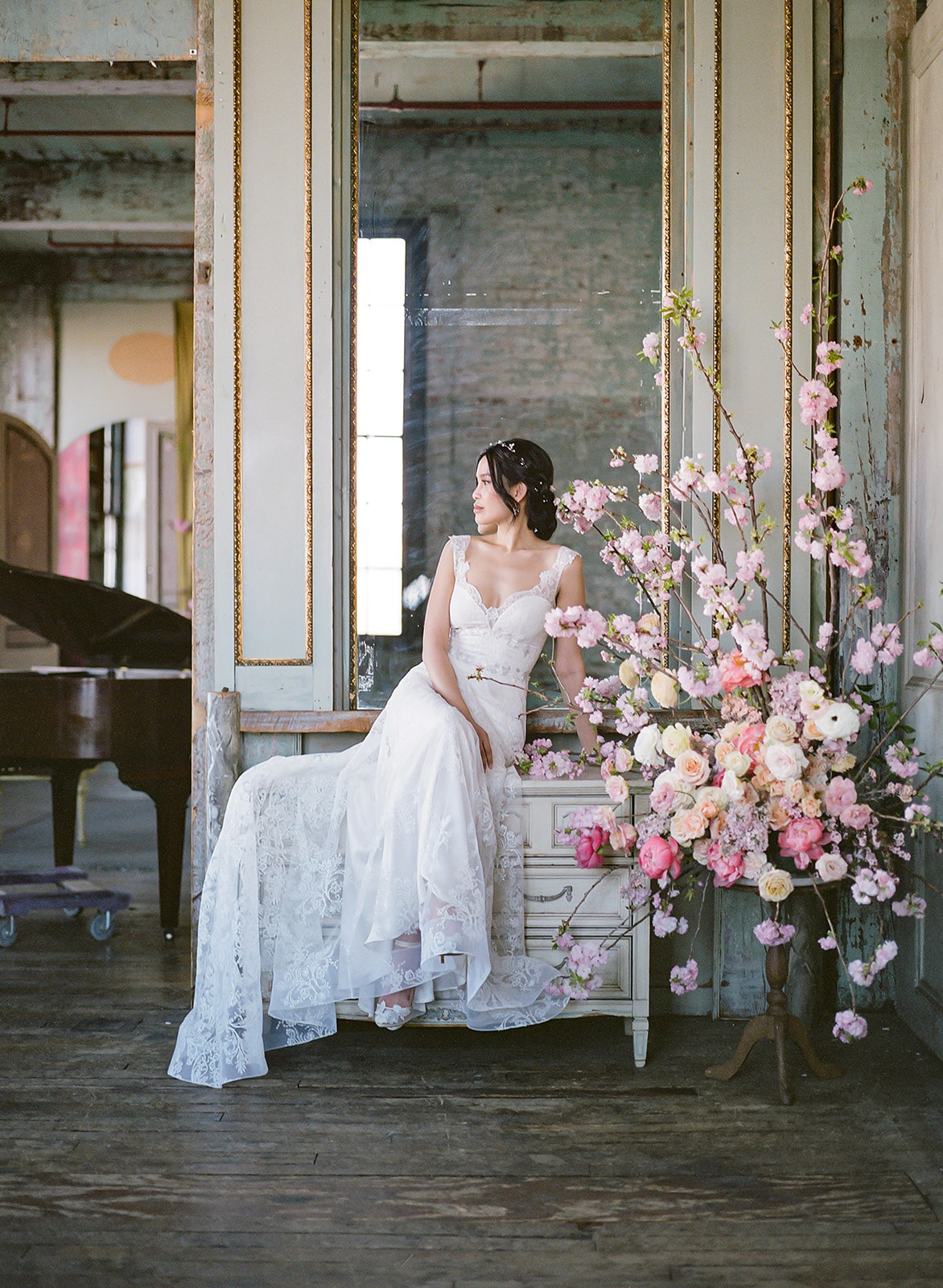 Graceful, romantic, and poetic – these are some of the words used to describe the stunning beauty of Claire Pettibone's luxury wedding dresses. Los Angeles-based designer Pettibone has won the hearts of brides worldwide for her vintage-inspired style and feminine collections. Her one-of-a-kind wedding dresses feature extraordinary detailing, trademarked laces, and intricate embroideries that result in elegant gowns that perfectly balance contemporary and timeless elements. If your wedding style is "boho-luxe," an ethereal wedding dress from Claire Pettibone may be your perfect dress.
Designer Beginnings
Pettibone often credits her artist parents for instilling a passion for creativity and design from an early age. After attending Otis Parsons School of Design in Los Angeles, California, she launched her company in 1994 with her husband, Guy Toley. However, she didn't begin with luxury wedding dresses. Instead of gowns, she thrived as a designer of wonderfully indulgent and beautifully crafted lingerie.
After securing legions of fans for her lingerie designs, Pettibone launched her first couture bridal gown collection in 2005. After more than a decade in Beverly Hills, the company and primary salon moved to the historic 1928 property The Castle (aka the Heinsbergen Building) on the city's famed Beverly Boulevard. Today, her romantic wedding dresses and goddess-like event gowns are among the most sought-after in the world.
The Claire Pettibone Aesthetic
Influenced by art, gardens, vineyards, and rustic or vintage elements, it's easy to see why one recent profile described the designer's vision as "vintage romance with an enchanted bohemian spirit." Her luxury wedding dresses are intricately detailed and exquisitely crafted by a team of dedicated artisans in their Los Angeles Flagship Salon. Exquisite accents, hints of pastel colors, dramatic back designs, and lightweight materials combine to help create the signature "flutter and flow" of her couture gowns – much to the delight of brides everywhere.
"Claire brings a deeply feminine sensibility and unique artistry to her ethereal, bohemian, and vintage-inspired wedding gowns and bridal accessories." Claire Pettibone Design Atelier
Claire Pettibone's latest collection of luxury wedding dresses takes its inspiration from Botticelli's "Primavera." It seems only fitting that one of the most popular panel paintings in the world would be part of the creative spark behind beautifully romantic gowns, including Venus, a backless long-sleeved sheath dress, and Thalia, an elaborately embroidered strapless mermaid gown.
The Claire Pettibone Bride
The Claire Pettibone bride is someone who gravitates toward dreamy romanticism while demanding the finest fabrics, trademarked laces, and unparalleled craftsmanship. Their brides want to feel like goddesses on their wedding days, and these luxury wedding dresses are the perfect fit, literally. And each custom gown is unique.
"The fabrics are created by the world's top embroidery and lace houses exclusively for Claire. She hand-sketches her ideas and carefully selects the threads, flowers, embroideries, and laces that go into each design – each dress is truly, a work of art." Claire Pettibone Design Atelier
Even in her early collections, such stunning work won hearts around the world, and the designer quickly earned the moniker "style maven" from The Los Angeles Times. And while local brides were already singing her praises, it was in 2012 when Priscilla Chan wore Claire Pettibone's "Sky Between the Branches" dress at her wedding to Facebook founder Mark Zuckerberg that she became widely recognized as a distinguished designer. Since then, she has been a favorite for celebrity weddings and red carpet events, dressing people like Nikki Reed, Elisabeth Moss, Courteney Cox Arquette, Leona Lewis, and Cameron Diaz.
Every bride Claire Pettibone works with is unique, and the designer takes on their hopes and dreams for the future. Every element of the design process is entered into with the bride in mind. And the designer loves being part of something magical and unforgettable.
"Our brides don't fit into a particular mold. They are stylish, creative, smart, independent, beautiful women of every kind. Their wedding dress is an expression of who they are, and who they will become. And because the dresses we create carry such meaning, we feel a bond with our brides, and we are so grateful to be a part of these truly beautiful moments of love." Claire Pettibone Design Atelier
The Cost of Claire Pettibone's Luxury Wedding Dresses
Hand-crafted boho gowns from Claire Pettibone's Romantique Wedding Dress Collection range in price between $2,500 and $3,500. Luxury wedding dresses from her inspired couture collections are known for their "unparalleled craft and creativity" and currently run from $3,500 to $10,000. If you have your heart set on a one-of-a-kind design from Claire Pettibone Design Atelier, the cost may be $20,000+.
What We Love About Claire Pettibone
"There's an ethereal quality to Claire's gowns - they feel very special," K Bella Events' founder & lead designer, Krystin Gill comments. "From the hand-sewn beading, lovely lines and special jeweled adornments, Claire's work is delicately beautiful. We especially love her gowns that incorporate a hint of color, like the one we incorporated into our editorial with Jeremy Chou, which are perfect as a subtle accent for your wedding day."
Can I Find Claire Pettibone Wedding Gowns Locally in the Washington D.C. Area?
While her luxury wedding dresses are available in specialty boutiques around the world and upscale stores like Saks Fifth Avenue and Neiman Marcus, the closest boutique to offer Claire Pettibone couture is in Philadelphia at Nicole Bridal & Formal. Of course, her Flagship Salon continues to thrive in Los Angeles, so it could be the perfect time to visit the West Coast!
If travel isn't in your immediate future, you can order luxury wedding dresses direct from Claire Pettibone Design Atelier. They will work with you and your wedding planner to go over your wish list and offer design options accordingly. In fact, even when ordering from across the country, the atelier can assist brides throughout the designing, fitting, and buying process. If Claire Pettibone's Ready-To-Wed collection has caught your eye, those exquisite bridal separates are made in their Los Angeles atelier and available online.