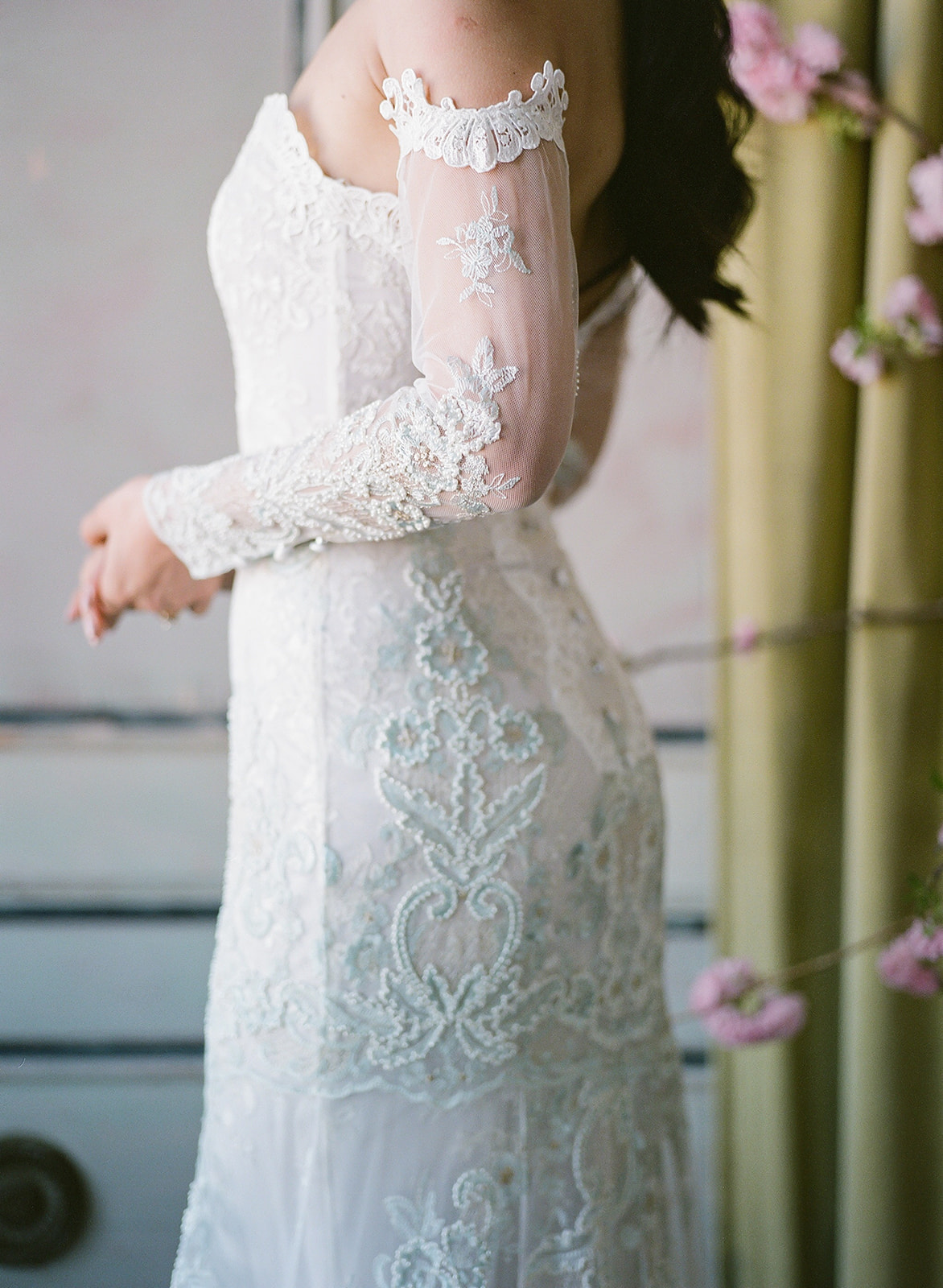 Spotting wedding dress trends at New York Bridal Fashion Week is always exciting, and this year did not disappoint. Glamor is on the rise for luxury weddings as gowns move from the more minimalist styles of previous seasons to the stunning embellished options unveiled in the 2023 collections. From the jeweled detailing of the spring designs to the glittering drama of the fall silhouettes, the new collections are giving the sophisticated bride a chance to revel in ultra-chic design.
Read on as we reveal the top five wedding dress trends for 2023 that turned our heads while in the big apple at this year's New York Bridal Fashion Week.
Sumptuous Embellishments
Veering away from the minimalist charms of recent years, wedding dress designs in 2023 are celebrating truly luxurious embellishments. Among our favorite enhancements were the sweet hand-embroidered flowers on layers of tulle and beading, as well as the addition of pearls and other delicate embellishments on veils and gloves. If you have visions of yourself wrapped in jewels on your wedding day, you'll love the extraordinary gowns by wedding dress designers like Claire Pettibone and Ines Di Santo. Both brands offered looks that showcased gowns adorned in crystals, pearls, amethyst, and other jewels.
Feather embellishments are also having a moment. This striking, fluttery detail elevated wedding looks from designers like Houghton, LaPointe, and Naeem Khan, among many others. Beyond formal gowns, these airy elements also made eye-catching appearances on everything from wedding blazers to crop tops.
Boudoir-Inspired Designs
Sexy yet effortlessly chic gowns sparkled on the runway, with designers like Galia Lahav and Berta featuring light-catching designs with body-con and Regency-inspired, corseted collections. And we loved seeing the jewel-embellished corsets paired with traditional full ball gown skirts. For any bride who dreams of a show-stopping, sensual look, there are definitely dresses in this year's collections that will help you celebrate your bold, sexy style while embracing vintage materials and retro influences.
Statement Sleeves
If you are a fan of voluminous sleeves, you will be delighted by the wedding dress trends for 2023. With a true sense of red-carpet glamor sprinkled throughout these collections, it is no wonder that dramatic statement sleeves are also making a comeback. Flared and belle sleeves, once mainstays for sophisticated bridal gowns in the 1970s, are emerging in daring ways that somehow feel both wonderfully retro and thoroughly modern. Sheer, cloud-like sleeves and bejeweled beauties also made us applaud. But our favorite statement sleeves had to be those you could attach or detach for a new after-ceremony look.
After-Party Looks
Speaking of after-ceremony styles, designers are embracing wedding dresses that can be quickly altered to create fresh, post-wedding looks. We saw this with flirty party minis from Peter Langner, who delighted with a draped balloon mini dress in lace, lined with silk crepe. Party looks were also favored by designers like Houghton, who gave us unexpected latex-draped gowns, and Nadia Manjarrez, who surprised us with a dress made from crochet lace and nylon organdy that was filled with shimmering details. Meanwhile, Monique Lhuillier thrilled with dramatic high-low hemlines, perfect for fashion-forward brides. We loved seeing the looks that spoke to traditional elegance while giving the nod to modern brides who long for gowns that can also impress as fun after-party pieces.
Eye-Catching Accessories
One of the most exciting wedding dress trends we discovered at Bridal Fashion Week was the emergence of dramatic accessories. Wedding capes are here for brides who don't necessarily want to wear a veil but love the idea of adding that kind of flow to their wedding look. We adored seeing stunning vintage embroidered lace, exquisite waterfalls of sequins, and extraordinary beadwork on wedding capes from designers like Sareh Nouri, Naeem Khan, and Ines Di Santo. Not only can you enjoy the beauty and refinement of this couture accessory alone, but it also offers brides another fantastic option for easily swapping ceremony looks for ones that are perfectly reception ready.
Did we mention the gloves? In much the same way that Regency-era styles have been embraced by designers crafting gorgeous corseted gowns, 2023 is seeing the emergence of striking wedding gloves. The trend yields a polished look that speaks to old-world romance and elegance. Opera gloves, fingerless options, and delicate wrist-length gloves made their appearance across a wide variety of collections. And if you are looking for a more contemporary take on this luxurious option, you're in luck because brands played with not only classic fabrics but also sheers and ornately beaded designs ideal for the modern bride. Cheers to a truly dazzling 2023!