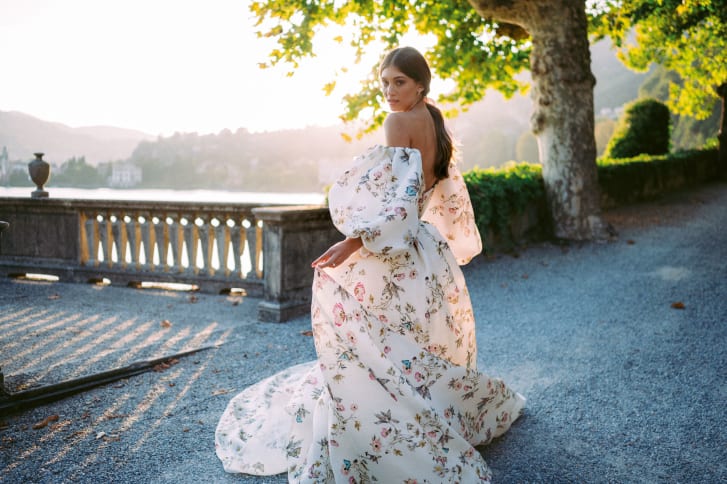 Designing luxury wedding dresses is much like sculpting a masterpiece, and there are few finer artists creating today than Monique Lhuillier. For more than 25 years, Lhuillier has helmed a team of artisans designing, sewing, and hand finishing exquisite wedding gowns that exemplify elegance, sophistication, and ethereal beauty. And while buying one of Lhuillier's designs is certainly a significant investment in an heirloom piece, for the brides who are fortunate enough to wear one of these luxury wedding dresses, the experience is priceless.
Designer Beginnings
Born in Cebu City, Cebu, Monique Lhuillier credits her parents for shaping her love for fashion and her entrepreneurial spirit in her new book, Monique Lhuillier: Dreaming of Fashion and Glamour. Her mother, "a style icon in her own right; and one of the most glamorous women in the Philippines" and her father, "a businessman" and "honorary French consul," frequently hosted events that captivated the young Lhuillier and instilled a passion for celebration and the beauty of design.
Her love for fashion only grew. From MTV and Madonna to the sophisticates she saw while in boarding school in Switzerland, she found inspiration everywhere. It's no wonder she headed straight to the Fashion Institute of Design & Merchandising in Los Angeles as soon as she was able.
Destiny had her meet her now-husband and business partner Tom Bugbee shortly after arriving in California. It was their engagement and her search for event gowns that saw the beginnings of what would become one of the most sought-after luxury wedding dress brands in the world.
"I was young, hopeful, and fearless, and convinced Tom to pair his business acumen with my creativity."
Monique Lhuillier, Monique Lhuillier: Dreaming of Fashion and Glamour
The Monique Lhuillier Aesthetic
Lhuillier approached crafting luxury wedding dresses with a desire to create something timeless and modern, romantic and glamorous, playful and dazzling. She broke new ground by focusing on her unique point of view and never straying from her desire to bring chic opulence to the bridal industry.
Creative expressions of volume and proportion are signature elements of the Monique Lhuillier aesthetic. Dramatic trains, high-low skirts, and billowing sleeves are just some of the features that make her work unforgettable.
Recent collections, including the Fall 2022 Bridal collection, have seen the introduction of "botanical and hydrangea" prints to her gowns. And while color has always been a part of her elegant designs, uplifting shades are taking a prominent role, as her brand celebrates 25 years of extraordinary work.
"Buttercup, a vibrant, yellow open weave silk gazar with cascading flowers. Rose, an ombre satin with hand-tufted bustles and hand-rolled rosettes. Dahlia, a new botanical print with all my favorite florals — Queen Anne's Lace and pink Dahlias. Poetic sleeves, detachable for versatility, three-dimensional embroideries and flowers, all signatures reworked to celebrate our 25th year in the Bridal business." Monique Lhuillier
Above all else, the Monique Lhuillier luxury brand is one of exquisite detail. Every piece of lace, button, or embroidered flower is considered essential to the final gown. No element is an after-thought. From start to finish, it's not unusual for a single luxury wedding dress to take more than 1,000 hours to complete. And it is this exceptional dedication to quality that has won Lhuillier a legion of well-known admirers, from A-list celebrities to royalty.
The Monique Lhuillier Bride
Who is a Monique Lhuillier bride? A Monique Lhuillier bride has a unique vision – someone who wants a statement dress that offers the ideal of modern romanticism. Whether you are looking for a bespoke creation or one of the luxury wedding dresses that is exquisitely crafted as part of her collections, a strong sense of your style is critical.

"[Our brides are] hopeless romantics and dreamers. They value craftsmanship, an heirloom quality, and elegance – without sacrificing fashion." Monique Lhuillier, Monique Lhuillier: Dreaming of Fashion and Glamour
Their brides understand the graceful beauty that comes from sculpting dresses from the finest fabrics, laces, and crystals sourced from around the world. And they bring their whimsy, their sense of romance, and their dreams when they buy a Monique Lhuillier wedding gown – which is only fitting because every brilliantly designed dress is made with precisely those qualities in mind.
The Cost of a Monique Lhuillier Luxury Wedding Dress
Naturally, this level of craftsmanship does come at a significant price point. For wedding gowns that are part of the Bliss Collection, brides can expect to pay between $2,900 to $4,900. The General Collection ranges from $4,900 to approximately $12,000. As noted in a recent New York Times article, Gowns in the Platinum Collection begin at $12,000, as, next to working with Monique Lhuillier on a bespoke gown, these luxury wedding dresses require the greatest amount of time and are the most labor-intensive to create.
Where You Can Find Monique Lhuillier Luxury Wedding Dresses Locally in the Washington D.C. Area
If you have fallen in love with the alluring elegance of Monique Lhuillier's luxury wedding dresses, you can find gowns from the collections at Carine's Bridal Atelier in Washington, D.C.
What We Love about Monique Lhuillier
"The ultimate in romantic sophistication," says K Bella Events' Krystin Gill. "From the lovely flourishes of sleeves to the most intricate of details, Monique Lhuillier's dresses are by far some of my favorites. I especially love how she incorporates color and pattern into her dresses – such a truly unique statement."
Learn More About Monique Lhuillier
Monique Lhuillier has recently released Monique Lhuillier: Dreaming of Fashion and Glamour. It's filled with gorgeous photos and fascinating insight into her early beginnings in the industry and her luxury brand's evolution over the last 25 years. The book is published by Rizzoli New York.
More on Luxury Wedding Dresses
If the romance of Monique Lhuillier's ethereal gowns has inspired you, please visit our luxury wedding dresses page for the latest trends, designer insights, and more exquisite creations.